Profile

Words, Words, They're All We Have to Go On
...don't you discriminate at all?
Free Account
Created on 2012-04-07 01:20:04 (#1592990), last updated 2012-04-12 (283 weeks ago)
0 comments received, 9 comments posted
2 Journal Entries, 3 Tags, 0 Memories, 15 Icons

About
| | |
| --- | --- |
| Name: | Guildenstern |
| Birthdate: | Jan 12 |
| | |
| | |

Mini Bio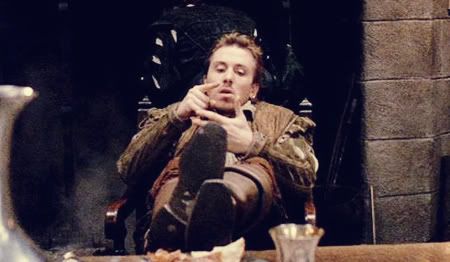 All your life you live so close to truth it becomes a permanent blur in the corner of your eye. And when something nudges it into outline, it's like being ambushed by a grotesque.

Is all the world a stage, and the men and women truly merely players? Imagine knowing nothing more than what you are meant to, what is significant to the story, having every thought you've ever had only a means to further the plot, every action you have ever conceived of taking planned out before it had even occurred to you, down to the very last step.

Enter Guildenstern, a man who seems to be stuck in a continual loop, with a beginning and an end but nothing before and nothing after, and a frustratingly spotty memory on everything in between.

-----------------------------------------------------------------------

Guil belongs to Tom Stoppard and William Shakespeare; I own no claim to either him or Tim Roth, who personifies him. I am merely borrowing with every intention of putting him back in the box when I'm done.

Connect

People
[View Entries]

Communities
[View entries]

Feeds
[View Entries]

Subscriptions (0)

Linking
To link to this user, copy this code:
On Dreamwidth:
Elsewhere: